Tehri Lake Uttarakhand- Holiday Home - Summer cottage
Beautiful scenic Tehri Lake in Uttarakhand. Gadwal region. it is new and upcoming tourist destination promoted by the state govt. excellent opportunity to invest in summer home ,vacations home land or plot for cottages or resorts available at reasonable rates.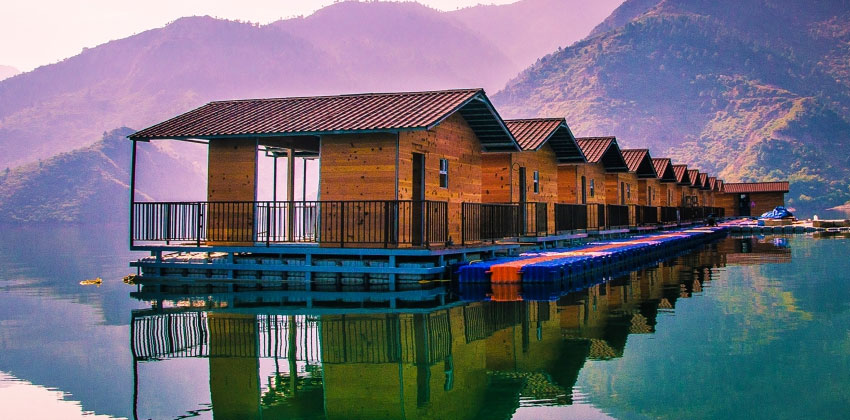 WHY INVEST IN TEHRI LAKE UTTARAKHAND
With God's Grace
Steeped in religious mythology, legends and heritage, Uttarakhand is home to a number of revered temples, holy rivers and spiritual sites. Devotees flock to here for pilgrimages to Char Dham (four religious centres namely Kedarnath, Badrinath, Yamunotri and Gangotri) and to Panch Prayag, the confluence of rivers in five sites that ultimately form River Ganga, one of India's most sacred rivers and worshipped as a goddess, along with visits to several other destinations of religious importance (like Bageshwar, Joshimath, Baijnath to name a few) in the state that is also referred to as the land of pilgrims.
Feel the Thrill
Uttarakhand is the ultimate adventure destination and the answer to all your thrill-seeking woes lies here. Bestowed with snow-carpeted slopes ideal for high-altitude skiing; the Himalayan ranges for trekking, mountaineering and rock climbing; gurgling rivers for white water rafting, pristine lakes for canoeing and kayaking, and mountain paths best suited for biking challenges - there is no dearth of adventure sports here
Nature's Bounty
Untouched nature in all its splendour is what Uttarakhand offers visitors. The state has been blessed with gorgeous natural beauty. The fact that almost 45.43 per cent of its geographical area has a dense forest cover, makes it all the more remarkable. The state is host to the mighty Himalayas, which guarantee a rich growth of flora and fauna, a pleasant climate and a peaceful and serene environment. The many glaciers here are sources of some of the major rivers of India, including the Ganga and the Yamuna. Snow-covered mountain peaks, like Nanda Devi, Badrinath, and Kamet, offer stunning views, while oak, rhododendron, deodar, and pine forests leave one in
Into The Wild
A haven for nature and wildlife enthusiasts, ornithologists, botanists, and tourists and adventurers in general - Uttarakhand's rich and varied wildlife never ceases to amaze. The state boasts as many as 6 national parks - including the popular Corbett National Park famed for its tigers and the Govind National Park that boasts about 15 mammal and 150 bird species along with several medicinal plants - that are home to a diversified range of flora and fauna, including endemic, rare and even endangered species of animals and birds. Along with this, the state also boasts two conservation reserves - Asan Barrage and Jhilmil Tal - and one UNESCO World Heritage Site. There are quite a few lakes in the state that welcome migratory birds as well, which attract birdwatchers in large numbers
Reconnect
Uttarakhand is a complete spiritual wellness destination that rejuvenates and revitalises the soul and ushers in positive energy by affecting a change in the five human senses - touch, taste, smell, sight and sound. Not just that, Uttarakhand is also home to a few luxurious wellness centres that offer detoxifying and relaxing Ayurvedic spas that has therapeutic properties. Blessed with dense forests, rolling hills, lush meadows, snowy slopes and mighty mountain ranges, Uttarakhand offers visitors a respite from the fast-paced city life and a chance to soak in nature's peace and quiet.
ACHINTYA AYURYOGA – RISHIKESH
One of the premium institutes of ayurveda, Achintya Ayuryoga Rishikesh offers therapies, treatments and teaching courses.
PARMARTH NIKETAN – RISHIKESH
One of the largest ashrams in Rishikesh, Parmarth Niketan is nothing less than a spiritual haven that is attended annually by thousands who seek rejuvenation.
PATANJALI AROGYA KENDRA
Reputed centres for overall wellbeing, two Patanjali Arogya Kendras in Bageshwar incorporate the benefits of yoga and a holistic lifestyle
PATANJALI YOGPEETH, HARIDWARA
vision of renowned yoga practitioner Swami Ramdev, Patanjali Yogpeeth is an institution dedicated to propagate the values and benefits of traditional ayurveda and yoga.
VED NIKETAN, RISHIKESH
Ved Niketan Dham, one of the oldest ashrams in Rishikesh, is ideal for those looking to rejuvenate. It offers daily classes on yoga and meditation, and plenty of peace and tranquility.
YOGA NIKETAN ASHRAM
The sole purpose of this ashram, one of the oldest in Rishikesh, is to spread yogvidya and spirituality in the world. It offers space for meditation and yoga, along with a library.
Tehri Lake has the best connectivity
In Terms of location, Tehri Lake does have an edge because :
80 KM From Dehradun Jolly grant Airport
5 KM From Tehri Bus Stand
75 KM From Rishikesh Railway Station
80 KM From Mussoorie
20 KM From Mata Surkanda Devi Temple

Tehri Lake Uttarakhand- Holiday Home - Summer cottage